◤FIFA World Cup in Qatar◢ Kylian Mbappé equalled Leo Messi, Eusebio, Karl-Heinz Rummenige and surpassed Cristiano Ronaldo's record after scoring his 9th goal in just his 2nd edition of the tournament..
2022-12-05 18:59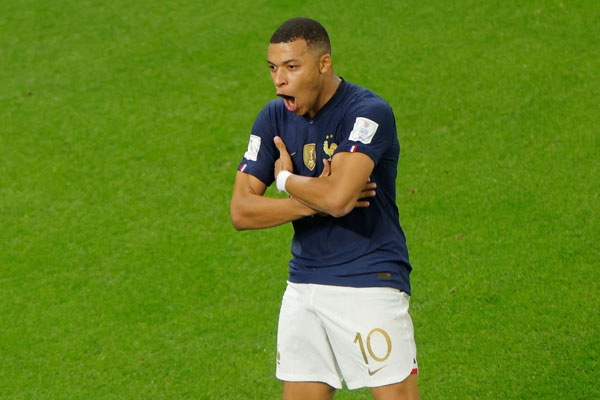 After scoring twice in the 2022 FIFA World Cup in Qatar Round of 16s match against Poland, French star Kylian Mbappé, who scored 9 goals in the 2 World Cups, not only officially equalled his Paris Saint-Germain teammate, Argentine renowned footballer Lionel Messi's record in this tournament, he had even equalled the record set by the late Portuguese legend Eusebio and Bayern Munich's former Germany international legend Karl-Heinz Rummenigge. Likewise, he even surpassed the record of Manchester United's ex-Portugal international legendary striker Cristiano Ronaldo.
In this World Cup, Mbappé, who led the scoring charts with 5 goals, also surpassed Netherlands wonderkid Cody Gakpo who are of the same age, his veteran teammate Oliver Giroud who broke the team history record with 52 goals, England star Marcus. Rashford and Lionel Messi himself.
The 23-year-old Mbappé scored 9 goals in 11 World Cup games and became the fastest current player who had achieved this record with the least number of appearances in the history of the World Cup. Before that, only Eusebio (6 games), former Italian international striker Christian Vieri (9 games) and the late Brazilian star Vava (10 games) are the players who had the honour of being the fastest to reach this record in fewer games than he played.
It is worth mentioning that Karl-Heinz Rummenigge had to play 19 times in the 1980s to achieve this record.
Messi, who played 23 games, waited until the 2022 FIFA World Cup in Qatar to successfully usher in the record by scoring his 7th, 8th and 9th goals.
On the other hand, Cristiano Ronaldo, who has played 20 times, only scored his eighth goal in the group match against Ghana not long ago. In terms of Mbappé's age, it wouldn't be suprised if he could surpass the former Germany international legendary striker Miroslav Klose's record of scoring 16 goals the tournament breaking record of 16 goals.