◤FIFA World Cup in Qatar◢ Nuno Mendes may miss Portugal's remaining games in the tournament due to a serious injury..
2022-12-01 12:37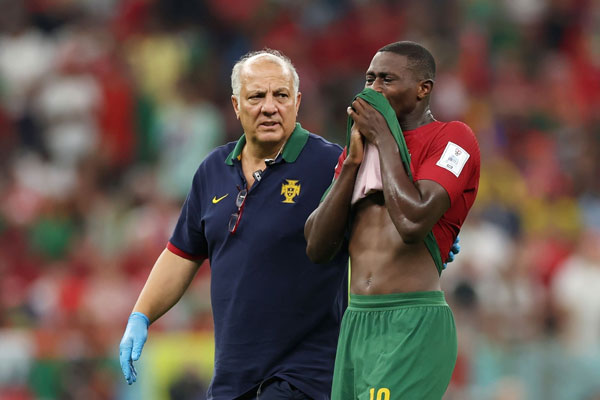 French outlet L'Equipe cited the Portuguese media Record and reported that the Portuguese international left-back Nuno Mendes is likely to be forced to miss all the remaining games of the 2022 FIFA World Cup in Qatar due to his thigh injury.
According to reports, the preliminary assessment indicates that Mendes may be ruled out at least until January 12, 2023 (a period of 3 weeks). If true, this does mean that Mendes will no longer have the opportunity to play for Portugal in this edition of World Cup.
Currently, neither Mendes' agency team nor the Portuguese Football Federation are willing to respond to question pertaining the player's injury assessment, but there are rumours that Paris Saint-Germain, where Mendes plays for, has urgently sent a team doctor to fly to Qatar after learning about the bad news for a detailed assessment of the player's injury. In addition, the news also stated that although Mendes is likely to be ruled out of all the remaining games, but he should also be allowed to stay with team in Qatar to support the Seleção like his teammate Danilo Pereira, who also plays for Le Parisien and suffered a rib injury.
Mendes, who is only 20 years old, joined Paris Saint-Germain initially on a loan with an option to buy basis in the summer of 2021, and quickly became one of the most high-profile young defenders in European football.
So far this season, Mendes has played 17 times for the Ligue 1 defending champion in all competitions, scoring 2 goals and assisting 4 times.
In the 2022 FIFA World Cup in Qatar, Mendes only played for Portugal in the second round group stage match against Uruguay where he started, but suddenly collapsed without confrontation in the 40th minute of the first half of the same game. Then, with the support of the team doctor, he left the stadium in tears covering his face.