◤Premier League◢ Arsenal and Manchester United legendary managers Arsene Wenger and Sir Alex Ferguson inducted into 2023 Hall of Fame..
2023-03-30 16:07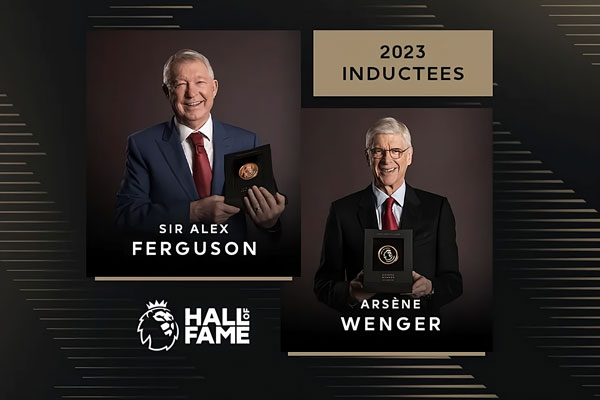 The Premier League has inducted legendary Arsenal manager Arsene Wenger and Manchester United manager Sir Alex Ferguson into the 2023 Premier League Hall of Fame this year.
The official statement of the Premier League described the two renowned managers who have won 16 league titles combined since the establishment of the Premier League, creating the fierce competition between Arsenal and Manchester United, and pushed the popularity of the Premier League to a global scale, as well as the deep impression that they had left uypon the league's development around the world is obvious to all, and it also means that the legac created by the two in the history of the Premier League are beyond doubt.
Sir Alex Ferguson said: "I am really delighted to be inducted into the Premier League Hall of Fame. It is an honour to be recognized like this."
"However, it's not just about me, it's about the work I've done at Manchester United and the connections we've made over the years, that's why I'm also proud of the club, the staff and my players."
"My job is to bring the fans home happy. The history of Manchester United and my own expectations are what motivates me, and then I have to work hard to develop all my players with the same expectations and make sure we go on a brilliant journey together, as well as making one wish after another come true."
"I think Arsene Wenger is a very deserving manager because he has transformed Arsenal Football Club magically. They have become a club that is difficult to compete with and we all want to win, which is what further motivated us."

"In the years since retirement, we would have dinner together at a small restaurant in Switzerland that he knew so well. He was a very interesting guy and I enjoyed his company, but picking the wines was still my job!"
Meanwhile, Arsene Wenger said: "I am very grateful to be inducted into the Premier League Hall of Fame. We always want to give the fans something special. When you have players who can do extraordinary things, the most important thing for me is to do the tasks assigned to me perfectly."
"I didn't think I'd be known as someone who loved Arsenal, who respected the values of the club and put the club in a position where they could grow and get bigger, but I'm grateful for what Arsenal have given me and the opportunity to work for this great club."
"It's an absolute honour for me to share this with Sir Alex. It's like having two boxers at the same time, we fight like crazy and fight side by side. In the end, we're both respected and it's a great honour. It will be a great opportunity to celebrate with him, share a good bottle of wine and reminisce about our battles."
The 73-year-old Wenger had coached Nancy, Monaco and Nagoya Grampus in his early years. He was still an unknown foreign coach when he joined Arsenal in 1996. However, relying on his innovation and his unique ability to develop young players into superstars without spending a lot of money, he changed the scenario where English clubs were reluctant to sign foreign players previously, and completely get rid of the British steoreotypes where people thought success will never be able to achieve by developing young players.
During Wenger's 12 years with the Gunners, the meritous manager led the club to win 3 Premier League, 7 FA Cup, and 7 English Community Shield titles.
After retiring in 2018, Wenger became the director of global football development, responsible for overseeing the development of grassroots football, and providing valuable advice on the technical aspects to promote the continuous improvement of football.
Sir Alex Ferguson is not only Manchester United's modern history but also the longest-serving manager in the history of the Premier League (27 years). He has manager East Stirlingshire, St. Mirren, Aberdeen and the Scotland national football team previously. He joined Manchester United in 1986.
During the years of managing the Red Devils, Sir Alex was in charge of Manchester United in 1,500 games, achieving 895 victories, among the 38 titles he has won includes 13 Premier League, 2 Champions League, 5 FA Cups and many more. In the 1998/99 season, he helped Manchester United completes the treble during 1999. He was also knighted by the British royal family in 1999. He is the first man in the history of English football to be able to equalize the 18 top-flight title win record set by Liverpool, which dominated the local football before the 1990s.
In May 2013, the 72-year-old Sir Alex officially retired after the 2012/13 season, and then he became one of the non-executive directors of Manchester United.
The Premier League Hall of Fame was established in February 2020 to recognise players who have demonstrated an exceptional record of on-pitch success and have made important contributions in the division since its creation in 1992.
In order to be eligible for induction, players must have been retired by August 1, 2020.
Since its inception, former household names such as Thierry Henry, Alan Shearer, Steven Gerrard, David Beckham, Frank Lampard and Didier Drogba and many other players have been nducted into the Premier League Hall of Fame.