Feyenoord head coach Arne Slot denies rumours of becoming Tottenham Hotspur new manager and vowed to "continue the project at the club"..
2023-05-26 17:13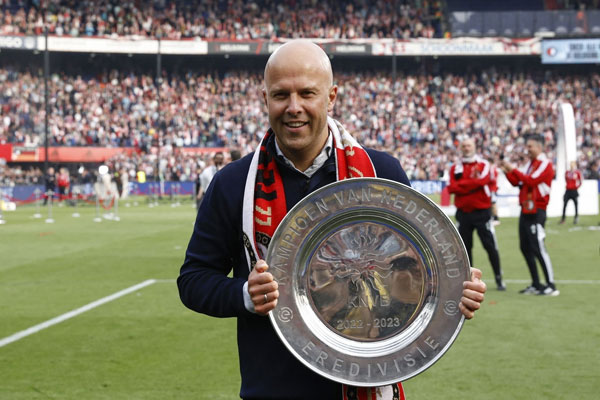 Dutch media AD exclusively reported on Thursday that Feyenoord's Dutch head coach Arne Slot had personally denied the rumours that he will be going to manage Tottenham Hotspur in an interview with the newspaper a few days ago, and promised to stay and "continue the project that he has been working in progress over the past two years."
According to the report, Slot is troubled by rumours that he will go to manage Tottenham Hotspur, and stated that his wish is to stay at the club.
Slot responded that: "I've heard and seen the rumours, but it's my wish to stay at Feyenoord and continue the project that we've been working on for the past two seasons. My wish is to stay and continue on the project that we've built over the last year and made it better."
Subsequently, Sky Sports' renowned Italian transfer journalist Fabrizio Romano, also confirmed that Feyenoord has started negotiating with Slot over contract extension.
Romano said that after Slot accepted the interview with the AD, the club has expressed its plans to renew the contract with their meritorious head coach, and Slot has personally reached a verbal agreement with Feyenoord. Likewise, the two parties are expected to formally complete signing the contract soon.
With this clarification, it also means that the rumours about Slot moving to manage in the Premier League are now quashed.
It is worth noting that when Sky Sports interviewed Slot on the same rumour a few days ago, he did not respond directly to the question at that time, but only praised the Premier League as one of the best leagues in history.
However, when the reporter repeatedly pressed him, Slot clarified that: "If after completing the mission at Feyenoord and I immediately join the Netherlands or any other club, then I will be a failure. "
"I've responded to this a few times, and like I've said before, this is not the right time to discuss about this subject. "
"You can ask me the same question over and over again, but all I can say is that I'm still going to be here this Sunday, and you can ask me about what it's like to be a champion, but these other irrelevant questions, it's really not the right time to discuss about it."
The 44-year-old Slot was born on September 17, 1978 in Bergentheim, the Netherlands. He is 1.84 meters tall. He was a legendary attacking midfielder of Dutch Second Division club Zwolle during his playing career.
After retiring in the summer of 2013, Slot worked as an assistant coach in Zwolle and Cambuur as an assistant coach, before being appointed as an assistant coach by AZ Alkmaar in the summer of 2017.
In the summer of 2019, Slot was promoted to be the head coach position of AZ Alkmaar, but he was sacked after he became absent-minded following being exposed that other clubs tried to poach him in December of the following year.
A few weeks following that, Slot replaced veteran renowned Dutch head coach Dick Advocaat as Feyenoord's head coach. Last season, he also led the club to the UEFA Europa League final.
This season, Slot did one again by successfully leading the club to break the tradition of rivals Ajax monopolizing the Eredivisie after a lapse of 6 years and won the league again.