Golden State Warriors star Anthony Lamb accused of sexual assault in lawsuit charged against his former college University of Vermont..
2022-12-09 19:53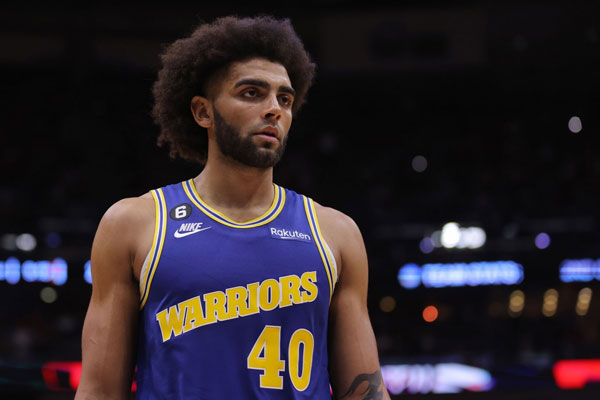 American authoritative online media The Athletic reported at afternoon on Friday, Asian time, that Golden State Warriors small forward Anthony Lamb was formally accused of sexually assaulting a female classmate while studying at the University of Vermont.
According to the report, the three plaintiffs accused the University of Vermont of deliberately exposing female students to a high-risk harsh environment where they could be sexually assaulted by ill-intentioned male students for a long time, and deepening the shadow of female students being physically and psychologically traumatized, therefore they had to muster up the courage to sue the University of Vermont after suffering from long-term mental abuse.
The report also stated that Lamb was not summoned as a defendant, but according to one of the plaintiffs, Lamb sexually assaulted a female classmate while studying at the university.
Regarding his accusation, Lamb later refuted the accusation through his personal official social platform account, and said that this is the first time he has been accused of the same incident after 3 years, and he also said that he has cooperated with all investigation, and prosecutors are welcome to interrogate him in order to prove his innocence.
"A recently resurfaced allegation against me in 2019 is clearly false," Lamb wrote. "I have been fully cooperating with the investigation into the alleged incident of my alleged involvement and welcome any investigation into the matter. In short, I have never committed a sexual assault."
The defending NBA champion Golden State Warriors, where Lamb played, also issued a statement later saying that: "Anthony is not a defendant in this latest lawsuit, and as far as we know, he has never been accused of any improper conduct in any legal case. Before signing Anthony in September, we conducted a detailed investigation of the NBA and his (Lamb's) previous teams, as we do with all players, and if any new information comes out, we will certainly evaluate it and act accordingly."
Lamb, who is 24 years old and 1.98 meters tall, studied at the University of Vermont from 2016 to 2020. During this time, he won the Player of the Year in the American East many times while studying.
Lamb signed to join the NBA G League team Canton Charge in 2020, and was traded to the Houston Rockets' G league affiliate Rio Grande Valley Vipers in February of the following year.
A few weeks later, Lamb signed a two-way contract with the Rockets and completed his NBA debut on March 11, 2021. After being waived by the Rockets in October 2021, Lamb signed a 10-day contract with the San Antonio Spurs in January this year.
After his contract expired, Lamb rejoined the Rockets with a two-way contract in March this year, but joined the Golden State Warriors with a two-way contract with Ty Jerome of the Oklahoma City Thunder in October this year.
Since the beginning of the NBA regular season this season, Lamb has played 17 times for the Warriors, 2 times as a starter, averaging 5.8 points and 3.4 rebounds per game.