Liverpool might recall out-on-loan wonderkid Fabio Carvalho from RB Leipzig due to lack of game time after joining..
2023-11-20 17:49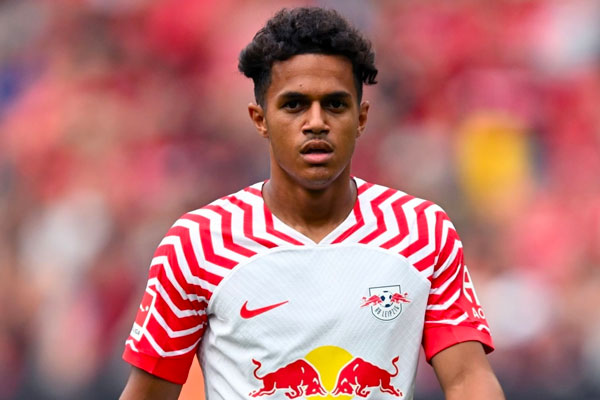 The London Evening Standard's resident renowned English Liverpool team correspondent David Lynch, reported on Sunday that Liverpool might recall Portuguese U21s international winger wonderkid Fabio Carvalho earlier, who is currently on-loan at RB Leipzig.
According to Lynch's report, Liverpool began to feel annoying with RB Leipzig's repeated reneging on its promise to provide Carvalho with ample playing opportunities, and was worried that Carvalho's development progress would be seriously hindered. Therefore, the Reds would not rule out the possibility of recalling Carvalho earlier during the January winter transfer window.
Since this is a unilateral breach of promise by RB Leipzig, which may result in Liverpool being forced to recall Carvalho early, the German powerhouse that was sponsored by the world-famous energy drink brand may have to pay Liverpool €3 million to €9.5 million in compensation.
In addition, so far, journalists in the industry are still unable to know that after being recalled to Liverpool, Carvalho will directly join the Reds first-team again, or will be loaned out again. What is certain now is that several Premier League and Championship clubs are interested in loaning Carvalho from Liverpool.
In fact, Carvalho had chosen the wrong time to join RB Leipzig on-loan. He chose to join RB Leipzig on-loan this summer because he believed in RB Leipzig's nearly 100% successful experience in developing young players. His original intentions of joining the club was right, but unfortunately a few weeks after he joined, Dutch international wonderkid Xavi Simons, who is quite similar to him in terms of age, body shape, and playing style, also happened to choose to join the Bundesliga powerhouse on-loan. As the proverb says, "one mountain cannot contain two tigers", Carvalho's playing opportunities will definitely be limited.
Fabio Carvalho, who is only 21 years old, was born in Torres Vedras, Portugal on August 30, 2002. He is 1.7 meters tall and primarily plays as a winger, but he can also play as a center forward or as an attacking midfielder. Having played for Benfica's youth academy when he was young, he immigrated to the UK atin 2013 and settled in London, where he then obtained British citizenship.
Carvalho joined Fulham's youth academy in 2015 and has represented England's U16, U17 and U18 youth national teams since 2017. He has played a total of 29 times at all levels, scoring 2 goals and assisting 1 time.
In the summer of 2021, Carvalho accepted the invitation from the Portuguese Football Association and chose to represent the Portuguese U21s national team. After that, he made his debut for the Portugal U21s national team in March this year.
Last summer, after his contract had expired with Fulham, Carvalho moved to Liverpool as a free agent and quickly became one of the Reds' main players.
However, when his career was on the rise, Carvalho suddenly fell out with a senior figure within the Portuguese Football Association in mid-November last year and decided not to represent the Portuguese national team for the time being. Since then, he unfortunately suffered from depression for a long time.
Despite this, under the persuasion of Liverpool head coach Jurgen Klopp, Carvalho gradually got over his psychological barrier. Klopp even publicly praised Carvalho as the player who worked hardest in the team to prove himself.
Last season, Carvalho made 22 appearances in all competitions for the Premier League giants and scored 3 goals.