Montpellier re-signed former France U21s international goalkeeper Benjamin Lecomte from AS Monaco..
2023-01-27 16:30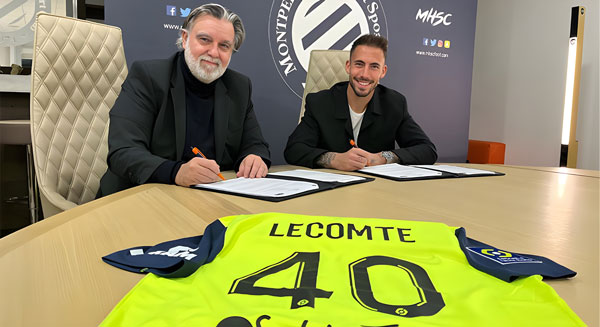 Montpellier announced on its official website on Thursday that former Monaco France U21 international goalkeeper Benjamin Lecomte has completed his transfer and returned to the club.
According to Montpellier's official statement, Lecomte has signed on a long-term four-and-a-half-year deal with the club which will run until the summer of 2027. At the same time, he will also wear the No. 40 jersey.
After completing his joining procedures, Lecomte, who was interviewed by Montpellier's official website again said: "I am very happy and I can't wait to play with my teammates. I grew up here, as a man and a player, I've had a great time here too, and today, to be back again at a club that means so much to me is a symbol and I'm really proud to be back here."
The 31-year-old Lecomte was born in Paris, France, France on April 26, 1991. He is 1.86 meters tall and plays as a goalkeeper. Lecomte played for Niort's youth academy system during his childhood but was released in the summer of 2010.
Lecomte then joined Lorient and made his first-team debut at the end of October 2010, before being loaned out to Dijon in the summer of 2013. After returning to the club from loan, Lecomte officially became the main goalkeeper of Lorient's first-team. Soon after, he ushered in the opportunity to play for France U21s national team.
In the summer of 2017, following the relegation of Lorient, Lecomte moved to Montpellier. He successfully helped the club avoid relegation and also attracted the interests of many big clubs with his good performances.
In July 2019, Lecomte joined Monaco for €13.5 million. During this period, he became the main goalkeeper of the club due to the poor form of the two veterans Daniel Subašić and Diego Benaglio. After the arrival of Alexander Nübel on-loan, Lecomte, whose status in the team has declined, was first loaned-out to Atlético Madrid, and then loaned-out to Espanyol this summer.
During the first half of the season, Lecomte played 10 times for Espanyol across competitions, conceded 14 goals and keeping clean sheet once, but he was sent-off in the La Liga game against Athletic Bilbao, thus this became the only blemish during his tenure with the club.
Montpellier, currently 15th in the Ligue 1 table, triggered a series of transfer saga a few days ago after Bayern Munich's legendary Germany international goalkeeper Manuel Neuer was ruled out of the season, followed by Switzerland international goalkeeper Yann Sommer moving to become his replacement. Then, the former's Switzerland international goalkeeper Jonas Omlin also moved to Borussia Mönchengladbach as Sommer's replacement. Hence, the return of Lecomte not only meant that he will be tasked with replacing Omlin, but also successfully keep Montpellier safe from relegation.