Singapore FA blast the country's international defender Irfan Fandi for posting crytic Insta-Story to criticize coaches during the national team's humiliating loss to South Korea..
2023-11-20 19:33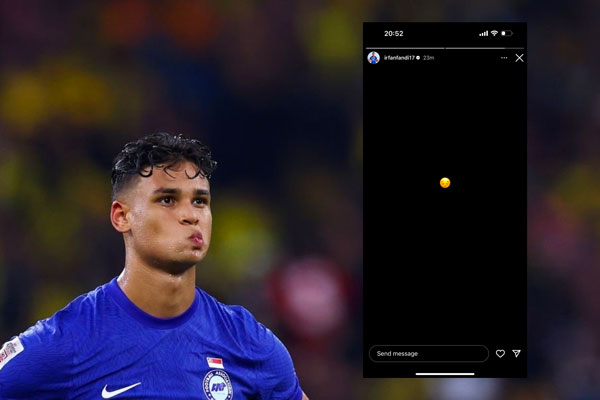 Singaporean sports online media The Monitor exclusively reported on Sunday that Singaporean international defender Irfan Fandi was cricitized by the country's football association after he was caught using his personal Insteagram social media account to post a cryptic Insta-Story to criticize the coaches during the nation's 5-0 humiliating loss to 2026 FIFA World Cup in US-Canada-Mexico Asian Qualifiers against South Korea last week.
According to the report, during the 70th minute of the second half of the game played at the Seoul World Cup Stadium on Thursday night (November 16), Fandi was caught by netizens using his personal official Instagram social media account to post a photo with all-black background, with only a disappointed emoji, which was a cryptic post suspected to have aimed at Japanese head coach Takayuki Nishigaya over the latter's decision to substitute him as to the substitutes bench before the start of the second half.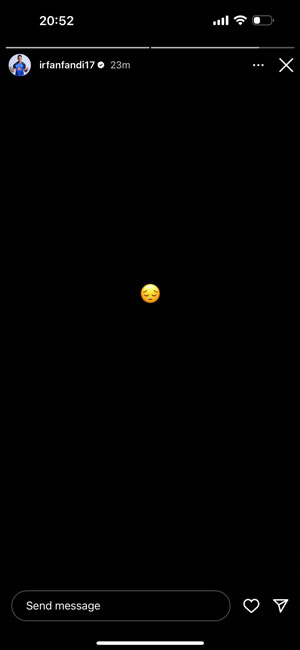 After this incident was exposed, it immediately attracted criticism from netizens in Singapore. Now that a few days had passed, an anonymous Singapore Football Association team official couldn't help but criticize Fandi when he was interviewed by the Observer. And he did not shy away from saying that this situation of players posting "connotations" and coaches during the game has become a common occurrence in local football.
The official pointed out that this trend may have been influenced by the behavior of players in Europe, especially the Premier League. This trend has appeared in local Singaporean football many years ago, but no matter how much efforts the authorities have made, this ingrained bad habit has never been completely uprooted, resulting in more and more players are following suit
Later, an anonymous Singapore national team coach also confirmed in the interview that the authorities had launched an internal investigation into Fandi's behaviour, and reiterated that the Singapore Football Association and the national team strictly prohibited any player and staff from secretly using mobile phones and using social media accounts during matches.
At the same time, he also confirmed that the Singapore Football Association will punish Fandi for violating disciplinary protocols.
The 26-year-old Irfan Fandi was born in Singapore on August 13, 1997. He is 1.89 meters tall and plays as a center back. His father Fandi Ahmad, his grandfather is Ahmad Wartam, and his uncle Hafiz Abu Sujad, were all former legendary international players of Singapore, and his three other brothers in the family, Ikhsan, Ilhan and Iryan are also active Singapore international players.
With the help of his father, Fandi joined the Singapore National Football Youth Academy when he was young. He later played for the youth academy of Spanish club Hercules and the youth academy of the Chilean club Universidad Catolica.

After returning to Singapore in 2015 to complete his military service, Fandi played for Singaporean S-League clubs, Young Lions and Lions City Sailors.
After leaving Young Lions in November 2018, Fandi joined BG Pathum United as a free agent.
Since joining BG Pathum United, Fandi has played a total of 111 times for the "Glass Rabbit" in all competitions, scoring 9 goals and making 5 assists, where he has won the Thai League 2 once, the Thai League 1 once, the Thailand Champions Cup twice, as well as reaching the Thailand FA Cup final once and the AFC Champions League quarter-finals once.
It is worth mentioning that this is not actually the first time that Fandi has been involved in disciplinary issues. In February 2018, Fandi, who was appreciated by SC Braga, would have been given the opportunity to join the Portuguese Primeira Liga powerhouse. In December 2021, he was offered the opportunity to join K1 League giants Jeonbuk Hyundai Motors, but he used many excuses to ignore them, and was criticized by Singaporean fans for not wanting to step out of his comfort zone and wasting the opportunity to prove himself.