The Japanese team's group leader advances, Mori Yasuichi: can advance to the quarterfinals
2022-12-02 11:44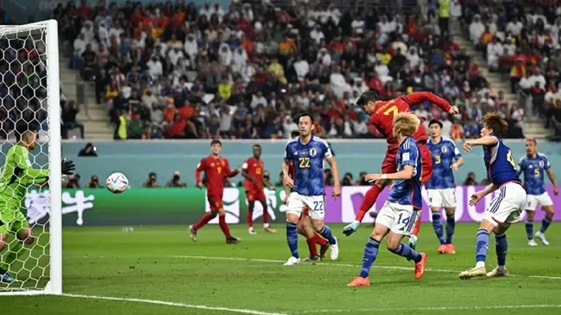 In the final round of Group E of the 2022 World Cup in Qatar , the Japanese team defeated the Spanish team 2-1 again in an upset, and advanced to the knockout round as the top of the group . The Japanese team defeated the two world champions Germany and Spain in Group E.
In the first half of the game, Azpilicueta assisted, Morata scored, and Spain led 1-0 . Japan scored two consecutive goals at the beginning of the second half to achieve a reversal. Spain eventually lost to Japan 1-2 and could only qualify as second in the group.
Japanese coach Mori Hoichi said after the game that the game was difficult, but the players played tenaciously and with confidence. It was a tough first half and they finished it strong. They believe they can do it, and they try to score as many goals as possible and concede as few goals as possible. The game in the first half is the basis for the victory in the second half, and everyone is united. Their previous goal was the quarter-finals, and now everyone can see from their performance that they can reach the quarter-finals.
After Japan lost 0 to 1 to Costa Rica in the last game, there was a voice in Japan to let Moriyasu get out of class. But Mori Yasuichi led the Japanese team to defeat the world champion Spain this time.
Mori Yasuichi led the Japanese team to a 3-0 victory over South Korea in July 2022 and won the 2022 East Asian Cup. According to media statistics, Moriho achieved 38 wins , 7 draws and 10 losses in 55 games after the first game, with a winning rate of 69% . The Japanese team coached by Mori Hoichi has better results than the Brazilian Zico who once coached the Japanese team, and has become the coach with the most wins and the highest winning percentage in the history of the Japanese national team.
In the World Cup, Mori Yasuichi changed formation in the second half of the 2-1 victory over Germany in the first round , but the two substitutes Don Yasushi and Asano Takuma both scored. In the game against Spain in the early hours of this morning, his substitutions also achieved very good results, with two substitute players contributing one pass and one shot.
The Japanese Prime Minister tweeted his congratulations after the Japanese team won, but what is interesting is that many Japanese netizens issued a holiday request under this tweet. The King of Saudi Arabia had given the country a day off after the victory over Argentina.