Wolverhampton Wanderers completes contract extension with Spanish U21s international left-wing back Hugo Bueno..
2023-11-21 10:08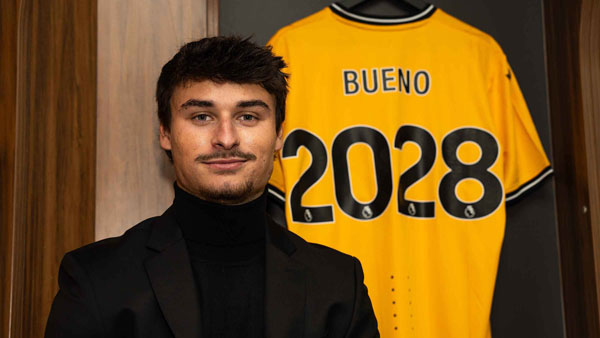 Wolverhampton Wanderers announced on its official website on Monday that the club has extended the contract of Spanish U21s international left-wing back Hugo Bueno.
According to Wolverhampton Wanderers' official statement, Bueno has signed on new a long-term five-year deal with the club which runs until the summer of 2028.
After completing his contract renewal procedures, Bueno, who was once again interviewed by the Wolves official website said: "I am very happy to sign this new contract with the club. This is a little gift from the club the work that I have done. I I'm very happy about that, they have confidence in me and are giving me the opportunity to play professionally in the Premier League."
"I just want to say thank you to them and hope that through my efforts I can continue to bring great performances to them and play more great games for the club. Signing here for another five years makes me feel at home."
Bueno, who is only 21 years old, was born in Vigo, Spain on September 18, 2002. He is 1.8 meters tall and plays as a left-wing back. His twin brother Guillermo currently plays for Borussia Dortmund and also plays as a left-wing back.
The Bueno brothers have joined the youth academy of Areosa, a local non league club in Vigo since they were young. In 2019, he joined the youth Wolverhampton Wanderers youth academy 2019 and completed his Wolves first-team debut by coming on as substitutes in October last year.
Since his debut, Bueno has played 30 times in all competitions for the Premier League club and provided 1 assist.