Young Enzo Alves follows his father's footsteps by officially joining Real Madrid's youth academy..
2022-12-05 19:15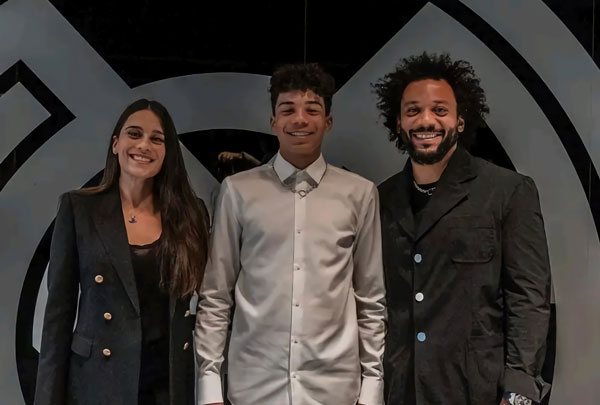 Sky Sports' renowned Italian transfer journalist Fabrizio Romano brought news on Sunday that former Real Madrid and Brazil former international left-back Marcelo's son, Enzo Alves has signed a professional player contract with the club and has officially joned the club's youth academy.
According to Romano, Enzo has actually already joined Real Madrid's youth academy as early as the summer of 2014, but he did not officially sign a contract with the club until he turns 13 years old now.
In order to celebrate this important historical moment, Marcelo and his wife, Clarice Alves, specially accompanied their son and flew to the Real Madrid headquarters again. The family of three even took a group photo with happy smiles in front of the wall of the club's crest at the headquarters.
After completing his signing procedures, Enzo did not forget to post on his personal official Instagram social platform account that: "I've signed my first official professional contract with the best club in the world. I am so happy!"
Enzo was born in Madrid, Spain on September 16, 2009. He plays as a striker and has dual citizenship of Brazil and Spain. Enzo played for French non-league club Reims Sainte-Anne's youth academy from 2014 to 2017, and then played alongside his father Marcelo by joining Real Madrid's youth academy in the summer of 2017.
At a young age, he has already won the junior La Liga championship with the team, and is also famous in Spanish junior football for his dribbling skills and goalscoring efficiency.
The 34-year-old Marcelo joined Real Madrid in 2007 and won 25 titles with the La Liga, UEFA Champions League, UEFA Super Cup and FIFA Club World Cup quadruple defending champions until his contract expired this summer. After that, he left the club and transferred to Greek Super League defending champions Olympiacos.